CARS 3 - EXCLUSIVA DISNEY STORE - RADIO CONTROL - COCHE DE METAL- DESCATALOGADO - PRECINTADO - NUEVO
No dude en preguntar.
En Valencia Capital, previa compra en TC y pago, se ofrece la posibilidad de entrega en mano, sin gastos de envío.
Para otros destinos envío por CORREOS (ordinario o certificado) a elección del comprador.
También es posible el envío por MENSAJERÍA (a veces mucho más económicos y asegurados), también a elección del comprador.
Al realizar el pedido se le facilitarán todas las modalidades de envío y sus respectivos precios para que el comprador elija cual le conviene.
Se agrupan envíos para varias compras.
Mint In Box (MIB)
Totalmente NUEVO en todos los aspectos. Todavía en el embalaje original. Tanto la figura y el embalaje no tienen ningún daño o desgaste
Totally NEW in all respects. Still in the original packaging. Both the figure and the packaging have no damage or wear.
COCHE RADIO CONTROL - LIGHTNING MCQUEEN - CARS 3 -
- LUCES Y SONIDOS - VIBRACIONES - PIXAR - DISNEY -
Primera versión de este modelo de Cars 3 para la Disney Store.
- ESTA VERSIÓN ESTÁ DESCATALOGADA - PARA COLECCIÓN -
GENUINE ORIGINAL AUTHENTIC DISNEY STORE
ARTÍCULO NUEVO - CAJA ORIGINAL DISNEY STORE
SIN ABRIR.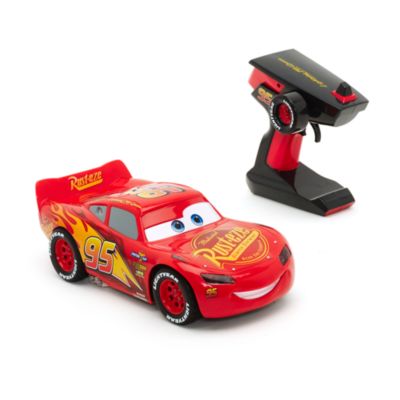 ¡Recrea las trepidantes escenas de Disney Pixar Cars 3 con el coche de carreras teledirigido de Rayo McQueen. Acelera al siguiente nivel con faros que se iluminan, sonidos de motor y vibraciones.!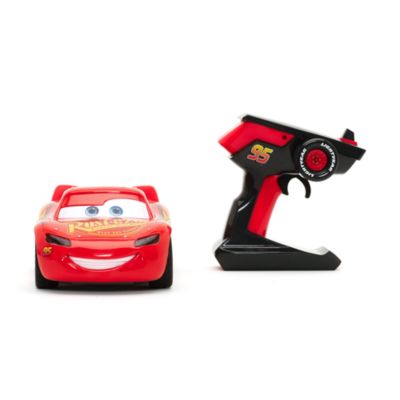 DESCRIPCIÓN DEL PRODUCTO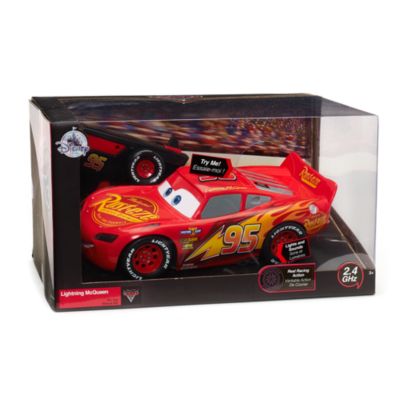 Exclusivo de la Disney Store - Lightning McQueen RC Vehicle Cars 3 - control remoto
Incluye vehículo y control remoto.
Control total de la función para el movimiento hacia la izquierda / derecha y hacia adelante / atrás
Acción de carreras reales
Faros delanteros y luces traseras
Luz de escape. Sonidos de peliculas reales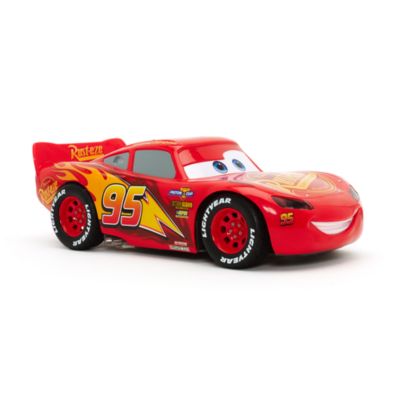 Presione el botón en el control remoto para activar el modo de ''aceleración''
Interruptor de encendido / apagado en la parte inferior del coche
Cuenta con tecnología de 2.4GHz que le permite competir contra otros autos RC sin interferir con las señales de los demás
Inspirado por los coches de Pixar 3
Requiere 6 pilas AA, incluidas
El control remoto requiere 2 pilas AAA, incluidas
Producto fabricado en metal.
Rayo McQueen: 10 x 11 x 25,4 cm. aprox.
Medidas del Control remoto: 15 x 7,5 x 12 cm. aprox.
Medidas de la caja: 31,5 x 23,8 x 18 cm. aprox.
Coche de control remoto Disney Pixar Cars 3.
Con detalles de esculpido y pintura.
Controlador fácil de usar y faros luminosos.
Sonidos de autos de carrera y vibraciones estimuladas con el botón en el techo.
El control remoto con estilo de rueda de carreras.